"The people who get on in this world are the people who get up and look for the circumstances they want and, if they don't find them they make them"  –  George Bernard Shaw
Life Stages Theatre tackles and explores social justice issues that face today's aging population as we advance inexorably through life's journey. Life Stages Theatre animate the spirit of puppets by creating a conduit, an external voice to the invisible, and the silent thoughts, feelings and emotions portrayed by the live actors on stage.
Life Stages Theatre presents a tangible experience that patrons can see, hear, feel and understand. We strive to spark conversation around life issues and challenge our audiences to become, more engaged to create a community of inclusivity and compassion. We believe no one person should struggle alone.
Ask about how we can help you sponsor your own show today!
---
New upcoming events:
Life Stages Theatre is very excited to bring its new puppet musical. "The Rumble Follies", to the Calgary Fringe this summer, with all Covid safety measures in place! More info here
Max Rumble and her husband Bob have been producing the "Rumble Follies", for 20 years in Calgary, bringing a talented older cast to it's amazing Vaudville Broadway shows but an unexpected turn of events threaten to close the theatre doors. Can "the Rumble Follies", be saved??
An amazing cast starring : Deborah Ferguson as Max Rumble, Douglas Rix, Jason Bakaas and Michelle Warkentin. Original music Gordon Banks and original songs by Michelle Warkentin re arranged by Willie Joosen.
Dramaturg: Caroline Russell-King, Co director: Wendy Passmore Godfrey and director: Michelle Warkentin
This is sure to be a fun ride for everyone so stay tuned to more announcements and stay safe and healthy!
---
Mii Other Woman
One woman's journey to embrace herself in the midst of losing who she is!
Mentored and dramaturg with Jeny Cassidy, master puppeteer and founder of Vancouver International puppet festival!
"Mii Other Woman," is a One Woman Puppet musical with original music composed by Jocelyn Johnson for songs and instrumentals King Aurous, lyrics by Michelle Warkentin."Mii Other Woman", takes the audience on one woman's journey of discovery when she is faced with the challenges of dementia. Maybe those parts of us that seem lost or unseen exist behind the veil where dreams can still happen and memories survive. A fun uplifting and interactive show which launches at the Calgary Fringe Festival. Tickets available online July 1st at https://www.showclix.com/event/mii-other-woman.
Click here to listen to Michelle's interview on CBC Daybreak Radio

---
Family Tear
A play that looks at the challenges of living with dementia
Dementia becomes a live, invisible force that exposes a family to life choices that have and will continue to change everyone.
Opening May 30th 2017 at the Inkubator Theatre in Eau Claire Market.
Tickets available through the Calgary Fringe $15.00 adult, $10.00 seniors
Family Tear will be touring January 2018
"Family Tear", tour schedule on Home page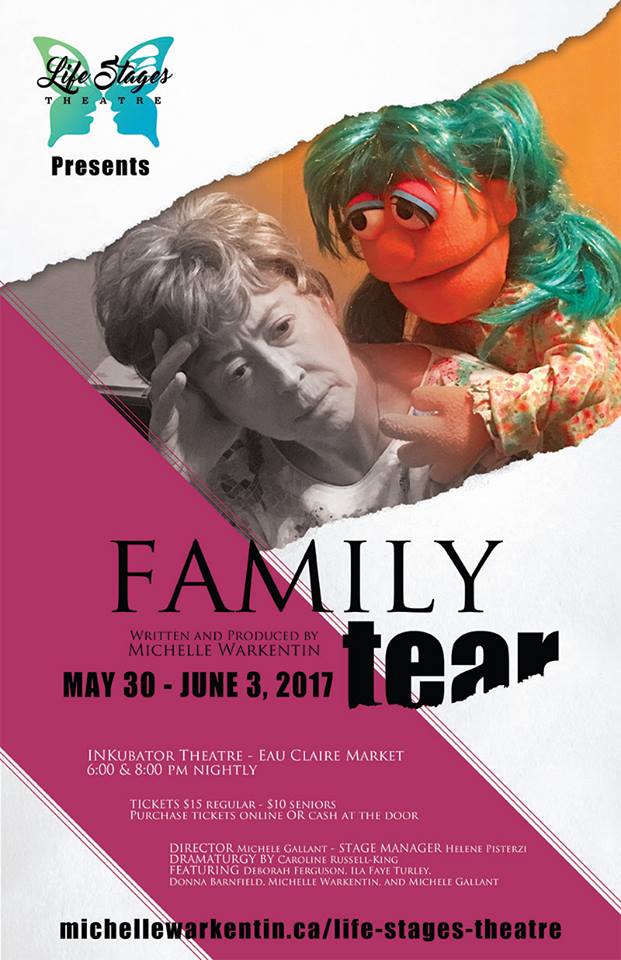 ---
Testimonials
Attending, "Family Tear", was heart opening. Michelle's writing and the ability of the puppet to capture the mystery of Alzheimer's was remarkable. The capacity with which the play introduced and connected me to grief, family struggle and the mysterious experience of how one might actually experience being trapped in the body mind of dementia offered us a glimpse into the depth of both the producer and writer's experience of human suffering. The simplicity of the set structure opened up space for the imagination. A remarkable event.
Karen Daniels
Expressive Arts Workshop Leader
Life Skills Consultant, Group Therapist
---
I was fortunate to have attended the inaugural performance of, "Family Tear," this summer. This play was particularly meaningful because it covered a topic (dementia) that my immediate family is currently dealing with. The characters in the play were very well developed and the story line was exceptional. The Playwright (Michelle Warkentin) exhibited a remarkable sensitivity and understanding to a topic which affects a large number of families such as our own. I found the play to be thoroughly engaging, very entertaining and meaningful and would recommend it to others without hesitation.
Steve Speer
---
Recently I attended the performance of the play "Family Tear" that was written and then performed by Michelle Warkentin, her puppet and three other female actors. The play explored the subject of a senior mother with dementia, who lived with an adult single daughter who was being treated for cancer. Another successful adult daughter appeared disconnected from the circumstances and did not visit often. The play was compelling in its truthful and heartbreaking portrayal of the advancement of the disease known as Alzheimer's and its impact on both the patient and the family members. In this play we witness and personally experience the emotions of the ill daughter facing treatment with no family support. Michelle's puppet is skillfully used throughout the play to demonstrate the losses that an individual with Alzheimer's disease may experience over time. Family Tear tackles a serious topic. At the same time it delivers hope through the compassionate care of a nurse and then through eventual healing of family wounds. The play also reminds us that family members may have different life circumstances. Communication and patience are important coping strategies.
The portrayal of the entire family experience was deeply moving. The silence and stillness in the theater throughout the performance reflected the depth of the patron's emotions. Many individuals wept silent tears. My own parent was a victim of Alzheimer's. So personally, I was profoundly moved by Michelle's creative interpretation of this complex life experience. As a Reg. Clinical Counsellor with a previous nursing background, I strongly recommend this play for family members of a patient, for Health Care and Mental Health Professionals.
Maureen Pysklywec, MA, Reg. Clinical Counsellor